PDF Map of Farmingdale State College of the State University of New York
Roosevelt Hall is Building #42, Lupton Hall is Building #63, Parking in Second Student Lot #5.
LISAT PARTICIPANT PARKING INSTRUCTIONS
You DO NOT NEED a parking pass to park for the LISAT conference. You may ONLY park in Student Lot #5 or Student/Visitor Lot #9. Parking in other campus lots WILL result in a NY State parking violation ticket. You may NOT park on any grass areas.
EHIBITOR PARKING INFORMATION is below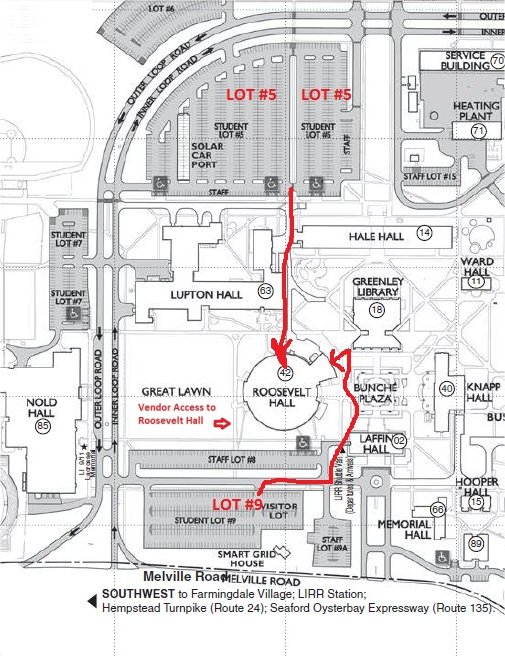 EXHIBITOR PARKING INFORMATION:
The parking lot designations referred to are on the map above.
Exhibitors will NOT have car\van access to Roosevelt Hall via the Lupton Hall Parking lot.
Exhibitors can unload equipment and\or supplies for the conference in Roosevelt Hall via Staff Lot #8 .

No vehicles may be parked next to the building, in Staff Lot #8, and/or on the grass

. Once, the vehicle is unloaded it must be moved to Student/Visitor Lot #9 or Student Lot #5 . Reloading of material at the end of the conference is bound by the same guidelines. A segment of the attached campus map is included above. We look forward to seeing you at the conference.
Thank you. Your LISAT Conference Team
---
Directions for Traveling by car to Farmingdale Sate College

Coming from the LIE (Long Island Expressway - Route 495)


Take Exit 49 SOUTH
Take Route 110 South to Melville Road (1 block after Adventureland)
Make RIGHT turn into Campus, then follow 'On Campus' directions below.
Coming From the Southern State Parkway
Take Exit 32 NORTH
Take Route 110 North to Melville Road -Milbar is street name on right hand side
(about 1 block BEFORE Adventureland)
Make LEFT turn into Campus, then follow 'On Campus' directions below.
On Campus Directions:
Make second RIGHT (Entrance #2) - Nold Hall and the athletic fields will be in front of you on the right -
Pass Nold Hall (on your LEFT) and you will see Lupton Hall on your RIGHT.
Follow the curve around past the Lupton Hall and the IRTT signs.
Please be sure to park in the second Student Parking Area (Number 5) on the LEFT!
Cross back over and enter the LUPTON building on the IRTT sign side. Students will be there to direct you to Roosevelt Hall for the Opening Session.